Southwest Art Article - Richard Hall | Something Completely Different
Richard Hall | Something Completely Different
Apr 16th, 12

By Norman Kolpas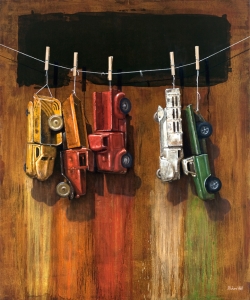 Car Wash, oil, 36 x 30.

Five vintage toy trucks, all gently worn by decades of play, hang against a wall, each vehicle suspended from a clothesline by a snip of twine and a wooden clothespin. Down the wall, in streaks of yellow, orange, red, white, and green, the trucks' colors inexplicably run, as if the playthings were made not of metal but of non-colorfast fabric, forming an engagingly abstract backdrop to the impeccably realistic objects.

Add to the recently completed canvas the title, CAR WASH, and you have the quintessential experience artist Richard Hall aims to deliver. He renders his still-life subjects with a precision that makes viewers feel they could reach into the painting and grasp them. But the appeal of Hall's oils goes beyond their technical mastery alone. From initial concept to composition to final execution, the British-born, Arizona-based artist adds a healthy dose of playful humor that can make his works irresistibly engaging and thought-provoking.

"One of the tasks of artists," he explains, "is to make people look at things that they see all the time but never really notice. I'm trying to make people see things in a different way."

Hall has always viewed the world through different eyes. "I had a really freewheeling childhood," says the 59-year-_old of his early days in Ilkley, a town in West Yorkshire, the scenic, gently rugged landscape featured in the novels of the Brontë sisters and, more recently, veterinarian James Herriot's All Creatures Great and Small books and TV series.

When young Richard wasn't in school or rambling on the region's dales and moors, he was likely helping out his maternal grandfather, a master carpenter, who instilled in him a strong, practical work ethic and sense of craftsmanship. "He was a typical dour Yorkshireman, whose praise was very sparse," Hall recalls. "This was back in the days when they never threw anything away, and my two younger brothers and I would spend hours out in his backyard with hammers, straightening out nails he brought home from building sites."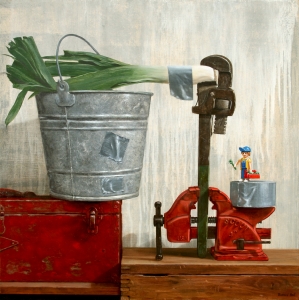 Fixing the Leeks, oil, 24 x 24.

He also credits his grandfather with instilling in him a love for the tools and toolboxes that figure in so many of Hall's paintings today. "He served a number of years as an apprentice, and as his final exam he made a magnificent set of mahogany bedroom furniture for my grandmother and himself," says Hall, who remembers the beautiful equipment in his grandfather's workshop. "He was very protective of it."

Hall's own childhood tools tended more toward colored pencils and pads of paper. "At night, back in the days when we didn't have TV, I would sit at the kitchen table and draw," he says. "I was good at it, and I was praised for it." In school, Hall's talents regularly won him awards and prizes in the form of bookstore gift certificates he would redeem for tomes on painters, from Dutch 17th-century master Jan Vermeer to early-19th-century English Romantic landscape painter John Constable.

When TV finally entered the Hall home, it added a new spin to Hall's already freewheeling sensibility. He loved watching Britain's classic comedians, including the gently humorous duo of Morecambe and Wise and the broadly slapstick Benny Hill. And, like so many teens of his generation, he instantly clicked with the 1969 debut of Monty Python's Flying Circus, whose brilliantly absurdist sketches were sometimes introduced by cast member John Cleese portraying a radio announcer intoning, "And now for something completely different…."

Those words also aptly sum up Hall's experience when he entered Sheffield College of Art at the age of 18. "I knew I wanted to be an artist, but that was just a dream, so I figured I'd be an art teacher," he says of his goal for the one-year "foundation" course. "But then, to walk into college and find a whole room just for life drawing, and another for sculpture, and another for ceramics. I felt like I was in a wonderland."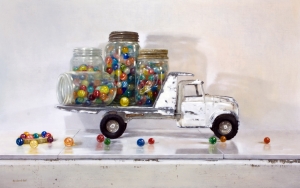 Losing My Marbles, oil, 12 x 24.

From there, Hall went on to Kingston Upon Hull Regional College of Art and Design for a three-year bachelor's degree, majoring in painting. The early '70s were a time of creative tumult, and that influenced his education. "Punk rock was starting. Conceptual art was taking off. They were throwing out a lot of the traditional methods and courses, and I jumped right in it, doing conceptual and abstract work." Four decades later, he regrets not having had a more rigorous, atelier-style training, but he also sees some advantages to the education he got: "I think it gave me a freedom of thinking that I might not otherwise have had." Still, practicality reigned. After graduating and spending a year back home in Ilkley, Hall enrolled in a yearlong program at the Brighton College of Art to earn an art teacher's certificate.

Though he completed the course, Hall's time near England's southern coast played a far more important and unexpected role. On his birthday, September 28, just after he arrived on campus in 1977, he went for a walk and met Sharon, an exchange student from Arizona. "It sounds kind of corny," he says with a laugh, of their love at first sight. When the school year ended, he moved with her to Phoenix, where they married that July. Almost 34 years later, they're still happily together, with two grown sons and four young granddaughters.

Life in the American Southwest soon brought Hall a new perspective on his artistic ambitions. With Sharon's encouragement, he decided to exhibit and sell art in weekend street fairs. His reasonably priced, signed and numbered prints of pen-and-ink drawings portraying Indian pueblos and pottery sold well. "By the end of our first show, we had a thousand dollars," he remembers. "And I thought: This is it. This is my career."

For the next several years, the couple regularly hit outdoor shows throughout the region. But then the recession of the early '80s took hold, and, with two young children, Hall began to look for steadier work. He found it at the Phoenix Art Group, a company specializing in creating original framed artworks for corporate, hotel, and residential environments. During Hall's 13 years there, he progressed from framer to artist-painting mostly abstract compositions-to manager and designer. "The job," he says, "trained me not only in the technical aspects of painting but also the discipline of working, working, working."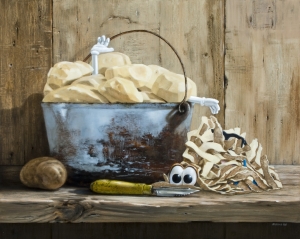 Everyone Has to Chip In, oil, 16 x 20.

Eventually burned out by that grind, Hall went solo again in the mid-1990s. With his sons almost grown, he and Sharon decided to "try doing some art shows like we used to years ago," selling large abstract paintings. "It was going great," he says, before hesitating and adding, "but always in the back of my mind there was a feeling I wasn't painting to my potential."

A major turning point occurred at 11 o'clock one night in May 2006. While enjoying the night sky in his backyard, Hall felt a pain in his throat, a tightness in his chest, and a tingling in his arms. He went inside and told Sharon he needed to get to the hospital.

It was a minor heart attack. The next day, doctors put a stent in his blocked coronary artery, and the healthy, athletic, lifetime nonsmoker "has never looked back since."

Instead, he began looking forward, seeking challenges to shake him out of what felt like artistic complacency. "I said to myself, I've always loved realism," he recounts. A brief foray into large landscapes, which "took up too much space for galleries and were harder to sell," eventually led him to want to paint "something a little smaller, more intimate." Still-life paintings seemed perfect. "They're something I can really control, allowing myself to push the limits of studying and capturing a subject."

Gradually, those compositions began to evolve from traditional arrangements of vases, tableware, flowers, fruits, and vegetables into something more skewed, expressing Hall's British sense of humor. He distinctly remembers a key moment in that process.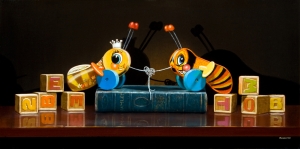 To Bee or Knot to Bee, oil, 12 x 24.

He had a composition set up and ready to paint in the spare bedroom he uses as a studio in his home in the suburb of Mesa. "I went back to the studio to find that one of my granddaughters had put a toy-a little guy driving a bulldozer-in the middle of it. She knew that Papa was doing something interesting, and she saw her object and the others with a child's eyes. It made me realize that there's an innocence we lose as we get older, and adding such objects might be a way to interject something far more personal into my paintings."

Hall began to haunt antique stores, ever on the lookout for interesting things to include in his paintings: old alphabet blocks that, in jumbled configurations, sometimes spell out a punning title; wooden pull toys; bits and pieces of Mr. Potato Head, which he might poignantly insert amidst a toy truckload of real potatoes; Barbie Dolls, favorite toys of his granddaughters, which sometimes play the same naively "naughty" role a comely actress might fill in a Benny Hill sketch; those battered trucks; and, of course, lovingly timeworn tools and toolboxes that look as if they might have been passed down from his grandfather's workshop.

These form Richard Hall's subject matter, a world combining both sophistication and, well, silliness. "There are a lot of one-liners in my paintings," he admits, trying to explain his sense of humor. "My wife likes to say it's because I'm English. But, as I get older, I realize how really important it is to look at things with some humor, especially these days."

The smiles his paintings raise, however, may just as likely be tinged not only with mirth but also nostalgia-for innocence lost, for beloved objects that evoke eras before mass manufacturing, before today's obsession with games played on video screens. "My pieces tell stories," Hall says. "And though there will always be humor to them, as time goes by they may also become more serious."

representation
Legacy Gallery, Scottsdale, AZ; Roby King Galleries, Bainbridge Island, WA; Principle Gallery, Alexandria, VA; www.richardhallfineart.com.

Featured in May 2012.